As I approach my role as Vice-Chair of Birmingham University Labour Students (BULS) by keeping religion and my position in BULS totally separate. So, this post you'll be reading from BULS member and atheist Max Ramsay, rather than BULS Vice-Chair Max Ramsay.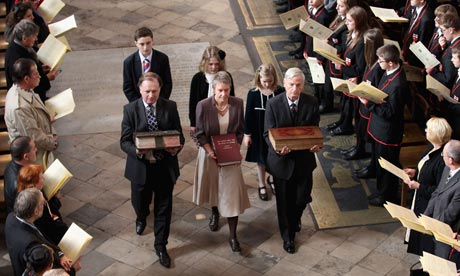 Today David Cameron declared "Britain is a Christian country and we should not be afraid to say so" and "that the Bible has helped to give Britain a set of values and morals which make Britain what it is today.".
Now, I'd like to point out that I respect everyone's right to have whatever faith they so wish. But, to be quite honest, Cameron really hasn't read much of the King James' Bible if he believes this is the case.
Now the first point is something seemingly imported from the USA. Given that a poll in 2004 conducted by the BBC showed that 39% of the UK population did not believe in God. That's right, today we're anything but a Christian nation, we're a secular nation.
You may say, "Oh, but we were founded upon Christian ideals and it has played a such a vital part in history in the last few centuries.". Really?! If we did derive our morals and values from the bible we'd still find acceptable;
General slaughters (I Chronicles 20:3, Judges 8:10 and Deuteronomy 3:6-7)
Burying victims alive (Numbers 16:32-35)
Killing unbelievers (Deuteronomy 13:5, 13:6, 13:8-9 and 13:15)
Genocides (II Chronicles 14:9 and 14:12 and II Samuel 12:31)
Raping (Isaiah 13:15-16)
Slavery (Exodus 21:2-6 and 21:20-21, Leviticus 25:44-46 and 1 Peter 2:18-21)
White supremacy (Romulus 12:1-3 and 12:19-21 and Philipians 3:18)
Jewish Persecution (Matthew 27: 22 and 27:25, John 7:1 and 8:44, Acts 7:51-52 and 1 Thessalonians 2:14-15)
Women's persecution (Leviticus 15:19-21 and 18:19, Proverbs 21:19, Corinthians 11:3 and 14:34-35, Ephesians 5:22-24 and Timothy 2:12-15)
Justify physical punishment of children (Leviticus 20:9, Psalm 127:3, Proverbs 13:24, 22:6, 22:15 and 23:12-14)
Homophobia (Leviticus 20:13 and 18:22, Deuteronomy 23:17-18, Romans 1:24 and 1:26-27 and Corinthians 6:9-10)
Oppose medical science (Acts 15:29, James 5:13-15 and Matthew 9:2-8)
To justify war (Exodus 15:3, Deuteronomy 20:4 and 1 Timothy 4:18)
Now can Cameron really claim that we were founded upon these values? That we derive our morals and values from the bible? And that we're still a Christian nation? Again, while I respect people's right to believe this, it is quite clear that what binds us and gives us true sense of values is secular enlightened thinking.
Max